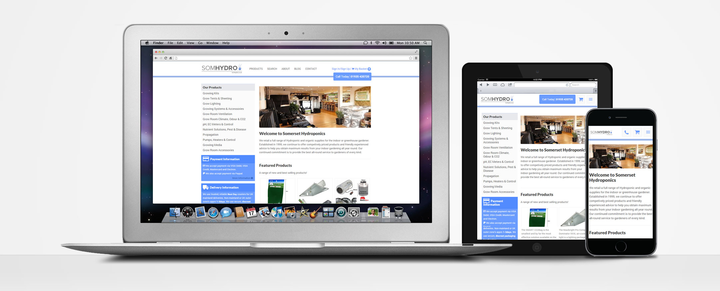 The platform has extensive rich data functionality to deliver exceptional search engine exposure. For example, we have increased Somhydro's site search results on Google from 700 to over 5000 to deliver thousands of landing pages for products and variants. The website has an expansive category system with filtering functionality to make it easy for customers to find the product they are looking for. It also allows detailed product data to help fully describe the products to customers using images, reviews, videos, downloads and branding.
For products that have multiple variants we have developed an ultra flexible variation system with support for multiple custom options (e.g. size, colour, wattage) providing customers a straight forward method of selecting the correct variant of the product they wish to purchase.
The new system we have created for Somhydro allows them to have full control of the website content with adjustable content snippets, content pages, opening hours, delivery pricing and more. Other interesting features the new Somerset Hydroponics ecommerce system includes are:
Merchant Centre Feed functionality for hookup with Google for automatic product adverts
Paypal + SagePay support with 'save my details' functionality to enable return visitors to quickly checkout via a fast, clean checkout process
Integrated blog with RSS+Atom Feed, Schema.org Microdata and Facebook Commenting to answer customer questions and help form lasting customer relationships
Live conversion data to provide quick insights into current conversion flow
Here at Ziontech we thoroughly enjoyed working on this website. If your company is in need of a bespoke ecommerce solution please feel free to contact us to discuss your requirements.